What Contact Lens solutions do you use?
Do you just choose the one that's on sale?
Contact lens solutions are a very important part of caring for your contact lenses. Many people choose the solution that is on sale, or is the least expensive. Most don't realize that the solution itself can be a big factor in the comfort and health of your eyes.
Contact Lens Solutions for Disinfecting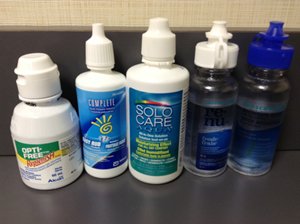 For most soft contact lenses (as opposed to RGP, or rigid gas permeable) there are several brands of contact lens solutions that are available in Canada. The most common are:
Clear Care Plus
Optifree Pure Moist
Renu
Sensitive Eyes
Biotrue
SoloCare Aqua
a variety of generic solutions, for example Equate from Walmart
All of the above solutions, with the exception of Clear Care, are known as multipurpose solutions, or MPS. With a multipurpose solution, you can clean, rinse, store and disinfect, all with the same solution.
Clear Care is a hydrogen peroxide based cleaning solution, and as such cannot be used directly in the eye.  It is, therefore, not a multipurpose solution.
Daily disposable contact lenses do not require cleaning, since you dispose of them after wearing them once. You may still choose to rinse or moisten your dailies before you insert them into your eyes, and in that case may need a contact lens solution. In this case, a simple sterile saline solution will work. Saline solution, however, is not a disinfecting solution, and should not be used as a multipurpose solution to disinfect lenses that are being worn more than one time.
It is not uncommon to be allergic or develop an allergy to chemicals that are used in the MPS. If you are finding your lenses to be dry and uncomfortable, and your eyes mildly red and irritated, you may want to try changing contact lens solutions to see if that helps.
Your eye care practitioner can help you choose a better solution, and often they will have a starter kit that you can try at no charge to see if another contact lens solution will work better for you.
My personal favourite contact lens disinfecting solution is Alcon's Clear Care. Make sure it is not the Clear Care Hydraglyde because I (and others) find that the Hydraglyde version doesn't work as well. It has been suggested to me that it is because Clear Care with Hydraglyde is formulated to be used with contact lenses with Hydraglyde as well (which I don't use).
Lubricating Drops
There are a number of lubricating drops made for contact lens wearers that can help reduce dryness and increase the comfort level of your contact lenses.
Some examples of these are:
Blink Contacts lubricating drops
Renu Multiplus lubricating drops
Optifree Pro Moisturizing Lens Drops
These drops are to be applied periodically during the day, in order to reduce dryness.
Another use is to put a drop in the contact lens just before you insert the lens into your eye. This helps with health, moisture, and comfort.
Blink comes in a several different forms, one that is specifically good if you have allergies to preservatives, is Blink Tears single use vials.
Blink Tears (not the single use vial below) is available from Amazon (affiliate link):
Drops to Reduce Redness
These eye drops, typically made by Visine to "get the red out", are not recommended for everyday use. The main ingredient is what is called a vasoconstrictor. This means that the blood vessels are made smaller so that they are not as noticeable. Many people are not aware that prolonged use of this type of solution can lead to what is called "rebound redness", which is what happens when you stop using it, your eyes become more red. The vasoconstrictor is needed to make the vessels appear small again. Similar to a nasal decongestant, if you use these drops too often, or for too long, your eyes could become addicted  to the solution.
There are a variety of solutions that are available which can either help your use of contact lenses, or make it more uncomfortable and problematic.
Some reminders for the use of contact lens solutions:
Always check the expiry date

Never use homemade solutions, for example saline

Never use water or saliva on contact lenses
---
Return to Contact Lens Care from Contact lens Solutions
Search this site: